Looking for a thoughtful present to express your appreciation for loved ones this festive season? This guide offers suggestions for those who enjoy cooking and living healthily. It's the ultimate resource to help you select gifts for health-conscious individuals, culinary enthusiasts, and anyone who loves spending time in the kitchen!
Want to make your friends and family healthier and happier? This gift guide includes a variety of cooking tools, kitchen gadgets, top-quality cookware, meal prep containers, and wholesome pantry staples to make your task easier. It's perfect for those looking to change their lifestyle or continue on their clean eating journey. No need to spend time researching, everything is in one place.
So, if you're eager to surprise your loved ones with meaningful gifts that can make their lives easier and healthier, you're in the right place.
Healthy Gift Suggestions
These health-promoting cooking tools and kitchen gadgets have greatly helped me. Some are essential for every kitchen, while others are handy tools that simplify our lives. They have all been tried and tested. I know I couldn't prepare, cook, or bake numerous nutritious recipes without them, which is why I believe they make excellent healthy gift suggestions.
I've divided this list into 5 categories – meal prep containers, wholesome cooking tools, top cookware for healthy cooking, and nutritious pantry essentials. This gift guide has something for every taste and budget, so all you need to do is pick your favorite healthy gift suggestions and add them to your holiday shopping list.
Ready?
Meal Prep Containers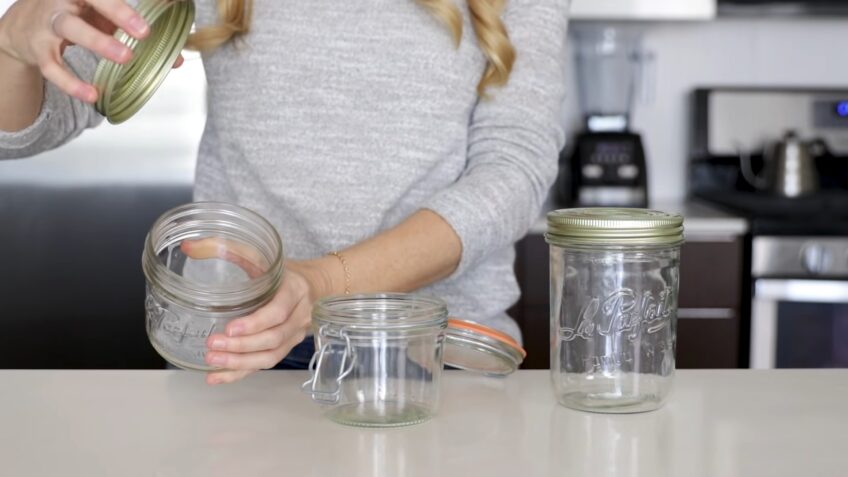 I'll begin this gift guide with meal prep containers because I genuinely believe that planning and meal prepping are the keys to a healthy lifestyle. Meal prep containers make fantastic healthy gift suggestions. And you have several options:
Sealed containers – You can choose between glass or plastic. I prefer glass containers, but plastic ones work well too. Sealed containers are absolutely essential in any kitchen, and in my experience, the more you have, the better. They make perfect gifts for health-conscious eaters!
Mason jars – In addition to classic sealed containers, consider adding mason jars to your list. Some meal prep items store better in mason jars, including jar salads, smoothies, salad dressings, homemade lemonade, and overnight oats.
Sealed containers for storing dry goods – These also make great gifts. There are many fantastic options available. I especially adore a canister set that's perfect for storing coconut sugar, flour, and other pantry essentials.
Health-Conscious Kitchen Gadgets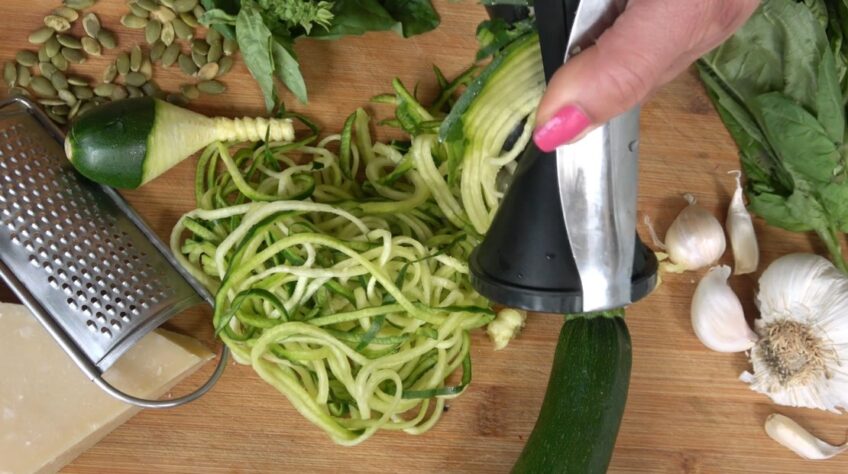 I adore my kitchen gadgets. They make cooking much more convenient and are absolutely amazing as healthy gift suggestions. Of course, kitchen gadgets tend to be pricier than other kitchen tools and occupy more space. They're fantastic gifts, but ensure you only give them to people you know well enough to be certain they need them and have room for them.
Vegetable spiralizer – I own one that comes with various attachments. It's perfect for making healthy pasta (hello zucchini noodles, sweet potato, beet, and carrot pasta), and it's also great for salads. If you're curious about what a spiralizer can do, check out my spiralizer guide.
Blender – I use my blender for smoothies, cakes, sauces, meal sides like homemade gravy, and other nutritious meals and treats. Owning a blender is fantastic, and I believe everyone should have one.
Food processor – This kitchen gadget is another one I couldn't live without. I use it to make breadcrumbs, crush almonds, make peanut butter, and puree cauliflower and pumpkin.
Slow cooker or instant pot – Both are incredible and easy to use. They simplify cooking, enhance flavor, and expedite meal prep.
Grill – I don't know about you, but I use my grill all year round. I have the Weber Spirit Grill, and I love it. If a grill is beyond your budget but you know someone who owns a grill and loves using it, consider grill accessories as a gift.
Digital thermometer – A digital thermometer is a handy tool in general, especially for those with limited kitchen experience.
Immersion blender – Many dishes require blending, whether it's soups, sauces, or desserts. An immersion blender is a great addition to any kitchen. Check out my immersion blender recipes to see all the things you can do with it.
Kitchen scale – A kitchen scale makes a healthy gift idea because it aids in the cooking process for accuracy and also helps with portion control.
Cooking Tools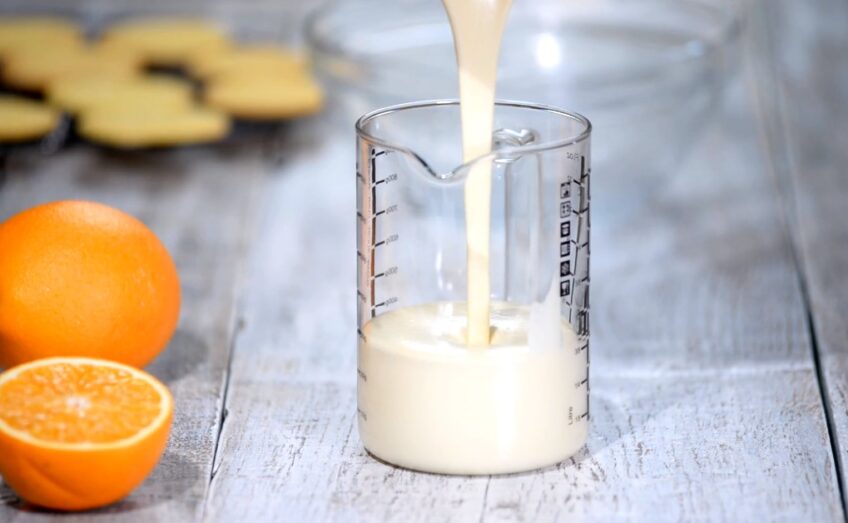 Now, let's move on to wholesome cooking tools. This category includes essential cutlery, utensils, and other useful kitchen tools. I find that having everything you need organized and within reach makes for a pleasurable cooking experience. These are some of the tools I use.
Food Prep Set
Mixing bowls – You must admit, a beautiful set of mixing bowls makes mixing ingredients even more enjoyable!
Measuring cups – Measuring cups are, of course, a crucial tool. I like a set that snaps together for easy location when needed.
Measuring glasses – Clear measuring glasses are fantastic. They don't stain when making things like homemade ketchup.
Measuring spoons – Last but not least, measuring spoons are essential. I keep a couple of sets on hand.
In my case, there's a lot of cooking happening in my kitchen every day, along with testing new recipes.
So, naturally, I need multiple mixing bowls and measuring spoons at all times. However, these kitchen essentials are great for any kitchen. A food prep set that includes all these kitchen essentials makes a wonderful healthy gift idea.
Set of Knives
A set of knives is another excellent gift for chefs or people who love to cook. Having the best knife for each task makes kitchen prep faster. Chopping sweet potatoes or slicing chicken is seamless with the right knife.
Chef knife – The chef knife is the most important one because it's multi-functional.
Bread knife – Whether you're making zucchini bread or homemade bread as a side, having a quality bread knife is ideal.
Paring knife – Slicing apples and veggies is a breeze with a sharp paring knife.
Knife guards – You can also include knife guards for safety.
Knife sharpener – Add a knife sharpener to the knife set to enhance the gift even more.
Cutting boards – If you like, you can include cutting boards as well – extra-large or smaller ones.
Cooking Implements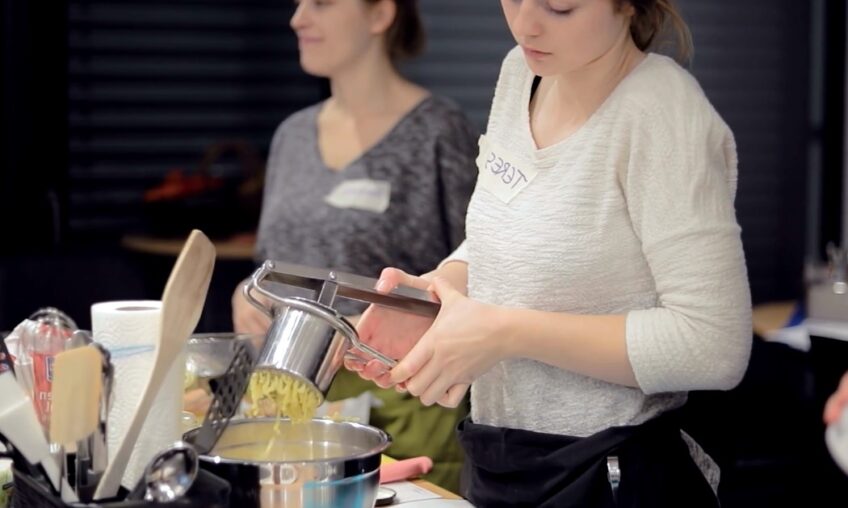 These cooking implements are essential in the kitchen and used regularly, offering versatility for various tasks. High-quality kitchen tools make excellent gifts.
Pastry cutter – Essential for making festive pies, a pastry cutter is a must.
Potato ricer – Gift a potato ricer for creating the creamiest mashed potatoes.
Balloon whisk – Achieve perfect fluffy omelets and scrambled eggs with a reliable balloon whisk!
Veggie peeler – A must-have in any kitchen!
Fine sieve – Filter sauces and more with a fine sieve.
Tin opener – A quality tin opener prevents sharp edges and makes a difference in the kitchen.
Bench scraper – Quickly transfer chopped vegetables from the cutting board to the pot with a bench scraper.
Draining basket – A versatile gift, draining baskets are perfect for washing fruits and vegetables.
Zester – Make the most delicious Mac and Cheese using a zester.
Kitchen Gadgets
Kitchen gadgets are undeniably important, and they definitely belong on your list of healthy gift ideas! Opt for silicone gadgets, as they're safe to use with all cookware, easy to clean, and visually appealing.
Ladles – Choose from a wide range of ladles to make every kitchen task a breeze.
Rubber scrapers – A rubber scraper is handy for making homemade ice cream using a food processor.
Cooking tongs – Great for tossing salads or turning chicken breasts, cooking tongs make a fantastic healthy gift idea.
Top Cookware for Healthy Meals
High-quality cookware and bakeware are perfect gifts for health-conscious individuals, including pots, casseroles, and cast iron pans. You can't have enough when catering to a large group!
Top Cookware
A set of frying pans is suitable for almost everyone, as they're ideal for meal prepping various dishes. If someone needs a pan, don't hesitate to get them one.
Wide frying pan – A wide frying pan is a healthy gift idea for cooking enthusiasts. It's versatile and multipurpose.
Frittata pan – Whip up the perfect non-stick frittata in a frittata pan. Eggs are incredibly nutritious!
Cast iron pan – A cast iron pan's heftiness and oven compatibility make it a great gift.
Saucepots – Anyone who enjoys making their own wholesome sauces needs a reliable saucepot.
Soup pot – A soup pot is an excellent gift for steaming vegetables or boiling pasta.
French oven – A French oven is perfect for braising meat in the oven, resulting in delicious meals.
Baking dishes – Baking dishes are ideal gifts for health-conscious eaters due to their suitability for large batch meal preparation.
Top Bakeware
Baking is undoubtedly one of life's greatest pleasures. From wholesome bread to indulgent treats, baking is simply the best!
Sheet pan and wire rack – A sheet pan and wire rack duo make an excellent bakeware set. The sheet pan is also perfect for roasting vegetables and other healthy recipes, making it a fantastic healthy gift idea.
Bread pan – The bread pan is perfect for baking healthy bread like banana nut bread.
Tart dishes – High-quality tart dishes make great gifts for health-conscious individuals, as they encourage trying homemade pies, which are usually the healthier option.
Cupcake tin – I often use my cupcake tin because everyone loves cupcakes, and healthy cupcakes are always a hit. A cupcake tin is versatile and can be used for baking various types of cupcakes.
Healthy Food Essentials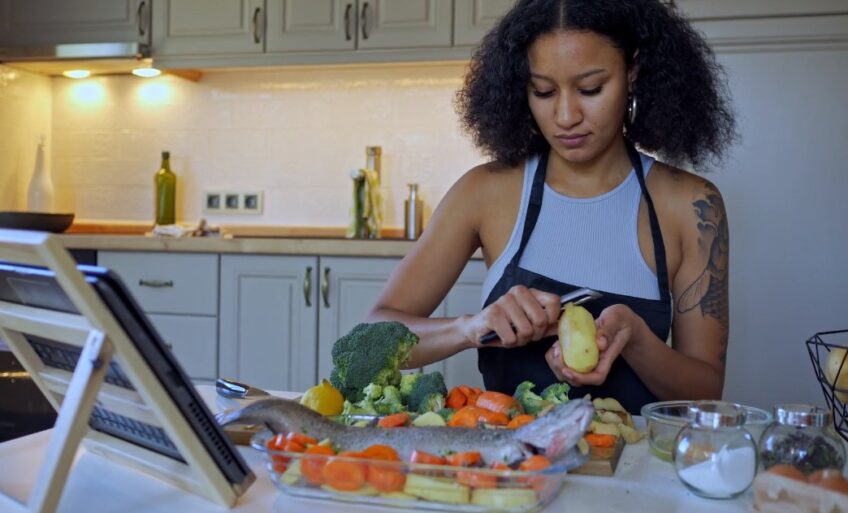 To maintain a healthy diet, it's crucial to stock the pantry with the right food essentials. I've included these pantry staples in this gift guide, as helping someone maintain their healthy eating habits is a fantastic gift.
There are five categories in this pantry staples section – oils, sweeteners, dry goods, spices, and herbs. Plus, some ideas to turn them into wonderful gifts for health-conscious eaters.
Oils
Healthy oils can be pricey. To transform oils into excellent gifts for healthy eating, consider creating:
Olive oil – An olive oil basket that includes extra virgin olive oil, flavored olive oils, balsamic vinegar, and spices.
Coconut oil – A coconut oil gift basket that features extra virgin coconut oil, along with a mix of dry goods and spices for baking.
Sweeteners
These healthy sugar alternatives can be combined in a basket and gifted to someone eager to explore the world of healthy baking and eating.
Pure maple syrup – Pure maple syrup is a healthy sweetener option. Learn more here!
Raw honey – Gift raw honey along with a recipe for making homemade honey-roasted peanut butter – delicious!
Coconut sugar – Coconut sugar is a versatile pantry addition.
Dry goods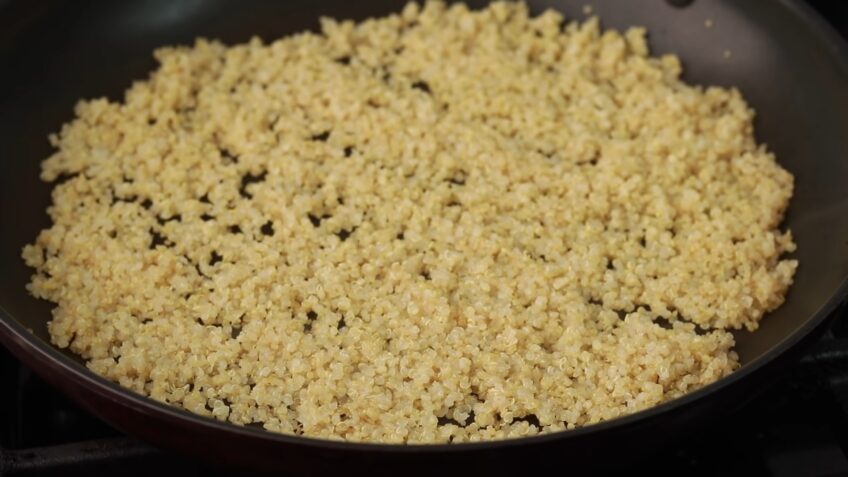 These healthy pantry staples can be gifted in healthy baking baskets paired with the sweeteners listed above or in a healthy cooking basket paired with spices and olive oil.
Whole wheat flour – Whole wheat flour is a healthier flour alternative.
Quinoa – Quinoa is fantastic! It's perfect for breakfast bowls and many other recipes, offering numerous health benefits.
Rolled oats – Rolled oats are excellent for making healthy overnight oats recipes.
Protein powder – A pantry should always have a variety. Discover the reasons here!
Nuts and seeds – Chia seeds, for example, offer numerous benefits.
Unsweetened dark cocoa powder – This delightful food item is not only delicious but also good for you.
Spices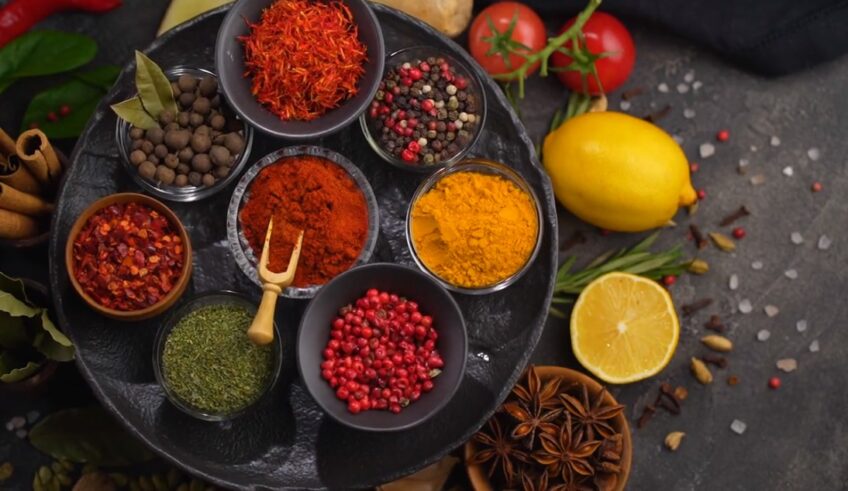 Spices are a fantastic way to introduce flavor to healthy dishes, and they make perfect gifts for those wanting to delve into the tastes of various cuisines. You can create an American blend, an Italian blend, a Mexican blend, an Asian blend, or even a seasonal blend, such as pumpkin spice.
Check out my favorite spices:
Sea salt – Sea salt brings a delightful touch of flavor to any dish, sweet or savory.
Ground black pepper – This bold spice is a must-have!
Ground cumin – Essential for sauces like homemade enchilada sauce.
Garlic powder – Ideal for making homemade garlic bread.
Chili powder – For those who enjoy some heat, chili powder is a must.
Paprika – Paprika is one of my favorites, especially when creating dishes like healthy Nashville chicken.
Ground ginger – Ginger boasts anti-inflammatory properties and numerous benefits.
Cayenne – Another spicy addition!
Nutmeg – The ultimate ingredient for homemade lattes.
Cinnamon – Healthy cinnamon apples, need I say more?
Cloves – Cloves lend a distinctive flavor to homemade ice cream.
Dried Herbs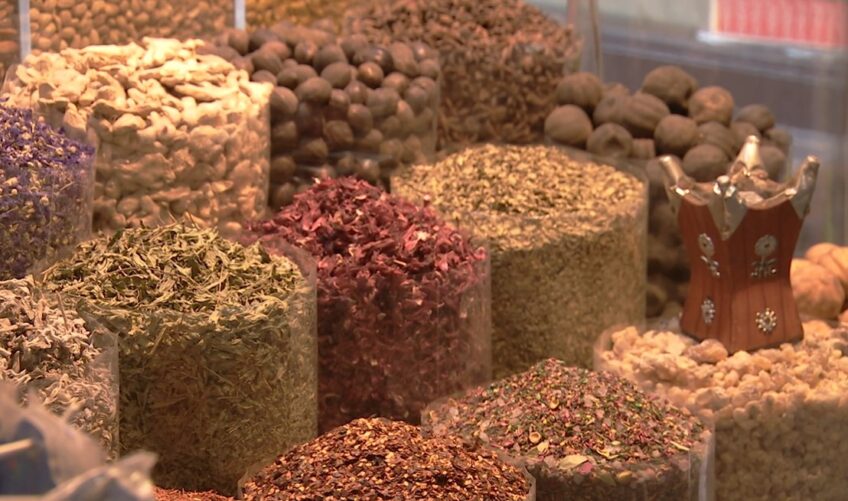 Dried herbs are equally crucial as spices, as they can effortlessly alter a dish's flavor profile. For gifting purposes, they can be combined with spices to create seasonal or cuisine-specific blends.
Here are the herbs I suggest:
Basil – Basil works wonders in vinaigrettes.
Oregano – Oregano is an essential addition to chili.
Rosemary – A rosemary plant makes for a fun and healthy gift idea.
Bay leaves – Crafting a homemade tomato sauce? Don't forget to include bay leaves.
Thyme – Thyme is perfect for enhancing freshly roasted vegetables.
Discover the top recommendations for meal replacement supplements tailored for diabetics, and learn how to prepare quick and easy meal prep.
FAQ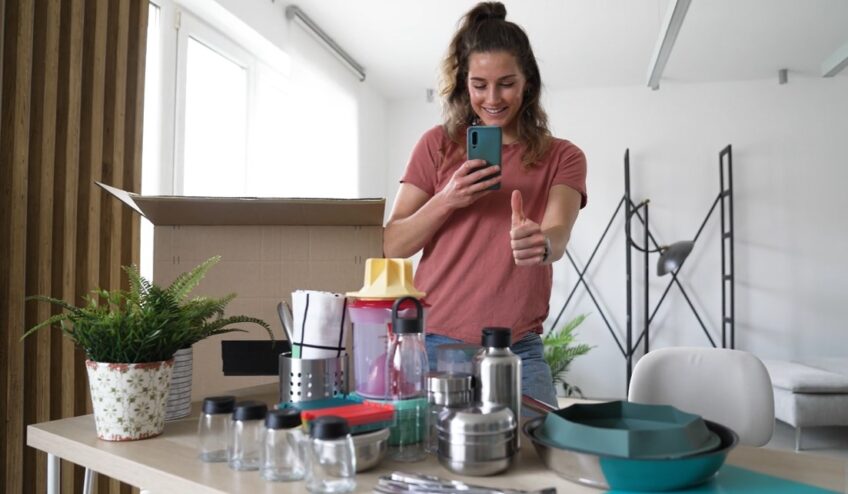 What are some essential cooking tools to have in the kitchen?
Essential cooking tools include a dough blender, potato masher, whisk, vegetable peeler, fine mesh strainer, can opener, kitchen scraper, colander, and grater. These tools are versatile and can be used for a variety of tasks, making them must-haves in any kitchen.
What are the best kitchen utensils for healthy cooking?
Silicone utensils, such as spoons, spatulas, and tongs, are great for healthy cooking. They are safe to use with all types of pans, pots, and skillets, easy to clean, and stylish in appearance.
What cookware and bakeware should I consider for healthy cooking?
The best cookware and bakeware for healthy cooking include a skillet set, large skillet, omelet pan, cast iron skillet, saucepan, stock pot, Dutch oven, and casserole dishes. For bakeware, consider investing in a baking sheet pan and cooling rack, loaf pan, pie plates, and muffin tin.
What healthy pantry staples should I stock up on?
A well-stocked healthy pantry should include oils (olive oil and coconut oil), sweeteners (pure maple syrup, raw honey, and coconut sugar), dried goods (whole wheat flour, quinoa, rolled oats, protein powder, nuts, seeds, and unsweetened dark cocoa powder), spices, and dried herbs.
What spices should I have in my pantry for healthy cooking?
Essential spices for healthy cooking include sea salt, ground black pepper, ground cumin, garlic powder, chili powder, paprika, ground ginger, cayenne, nutmeg, cinnamon, and cloves. These spices can add a burst of flavor to any dish without adding unnecessary calories.
What dried herbs should I include in my healthy pantry?
Key dried herbs to have in your pantry are basil, oregano, rosemary, bay leaves, and thyme. These herbs can easily elevate the flavors of your dishes and can be paired with spices to create unique blends for various cuisines or seasons.
Conclusion:
Equipping your kitchen with the right tools, utensils, cookware, bakeware, and pantry staples is essential for maintaining a healthy lifestyle and exploring new recipes. By investing in these items, you'll not only be able to create delicious and nutritious meals but also enjoy the process of cooking and baking. Additionally, these items make for thoughtful and practical gifts for friends and family who are passionate about healthy eating.

Theodore is a prolific author at Fischer Institute, known for his insightful articles on health and nutrition. His expertise spans a wide range of topics, from the benefits of traditional foods to the latest in health trends, always aiming to educate and empower readers towards better wellbeing.