Plantar fasciitis has been a pesky problem for many and while traditional treatments have offered relief, some of us still suffer from the pain of this common condition. But what if there was a more effective treatment option? Enter dry needling – a cutting-edge remedy that can finally end your heel pain!
Let's dive into what exactly dry needling is, how it works to treat plantar fasciitis, and the potential benefits you can expect to experience.
Dry needling for plantar fasciitis is a form of treatment that uses thin needles to puncture the fascia and muscles around the plantar heel of the foot. It is designed to stimulate muscle healing and reduce pain, releasing tension and restoring balance in the foot.
It works by introducing small needles into trigger points and tight muscles. This helps to relax knots in the muscle while also breaking down scar tissue, restoring the flexibility of muscles and encouraging healing. The needles are inserted using a sterile technique, so there is minimal risk of infection or injury when used correctly.
As well as dry needling, other techniques such as massage, stretching exercises and postural correction can be used in combination with this treatment to provide relief from pain in this area. It is important to note that although dry needling can provide an effective way to treat plantar fasciitis, it should only be used alongside lifestyle changes such as limiting running activity or wearing the correct type of shoes for support. This technique also showed positive results when it comes to treating piriformis.
Overview of Plantar Fasciitis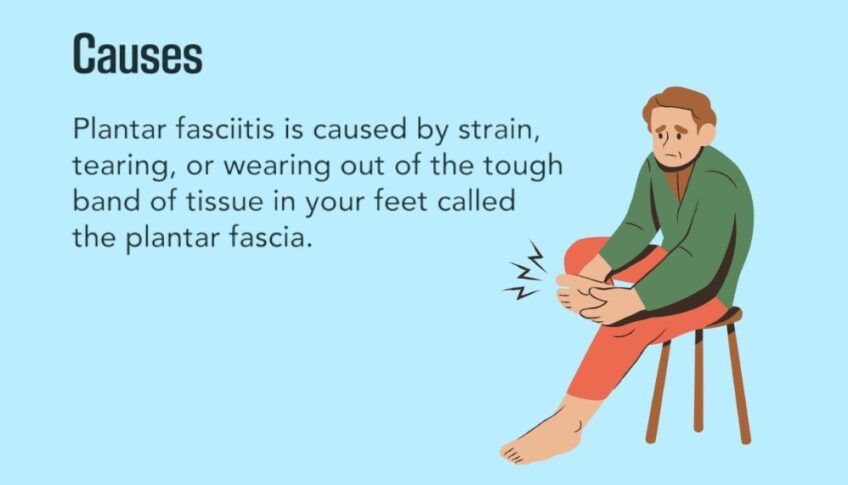 Plantar fasciitis is a common disorder that affects the bottom of the foot. It is caused by inflammation of the plantar fascia, a thick band of connective tissue that runs from your heel bone to the toes. The condition can cause severe pain and discomfort in the foot, especially when standing, walking or running.
The most common symptom of plantar fasciitis is heel pain that tends to be worse upon rising and after periods of activity or exercise. Other symptoms may include swelling and tenderness at the bottom of your foot, as well as difficulty in flexing your toes or walking on your heels due to pain.
It is important to seek treatment as soon as possible after consulting with your physician. Treatment usually includes:
Wearing shoes with arch support cushioning
In more severe cases, dry needling may be used to reduce inflammation and improve flexibility in the affected area.
Is Dry Needling Effective in This Case?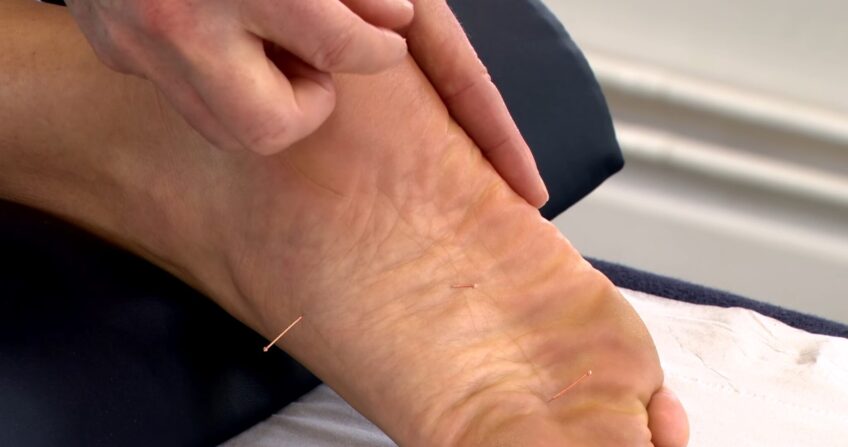 This procedure has been well-researched in numerous studies and has been shown to provide effective relief from chronic pain such as plantar fasciitis.
Dry needling offers several potential benefits when used to treat plantar fasciitis including:
Trigger point release: Dry needling therapy penetrates deep into the skin and muscles, targeting "trigger points" in the tissue that contain adhesions, knots, or hardened fibrous bands. These tight accumulations can cause painful inflammation and be resistant to conventional stretching or massage techniques. By releasing these points through dry needling, the range of motion can be restored and pain reduced.
Improved circulation: Inserting dry needles results in microtrauma at the needle site. This helps promote blood flow, which helps reduce swelling and reestablish nutrient delivery for healing tissues.
Reduced nerve irritation: Needles inserted around nerves can trigger a relaxation response from surrounding tissues including muscles and other connective tissues such as ligaments, tendons, and fascia (the stiff sheet of connective tissue). This relaxation can help relieve pressure on irritated nerves that can cause localized pain.
By combining dry needling with other aspects of physical therapy like stretching or strengthening exercises, practitioners are able to provide fast relief for those suffering with chronic plantar fasciitis pain.
What Should You Know About Dry Needling?
Dry needling is a form of physical therapy used to treat the inflammation, pain and discomfort associated with plantar fasciitis and other musculoskeletal conditions. It involves inserting thin, flexible needles into sore muscles or trigger points to stimulate healing.
This technique is effective in treating plantar fasciitis thanks to its ability to reduce the tension in tight, spastic muscles that can cause or exacerbate this condition.
The insertion of needles can help reduce inflammation, muscle spasms and pain by targeting specific points on the surface of the skin. Trigger points are often associated with areas of tightness within the muscle or connective tissue underlying them (known as fascia). By deactivating these trigger points, dry needling allows for an increase in range of motion, improves flexibility and reduces the localized pain.
It can also help improve circulation within muscle tissue, allowing for better nutrient delivery that enables quicker healing times. Patients may notice an immediate reduction in stiffness and improved range of motion after treatment with these techniques. Although the effects may be noticed almost immediately following treatment, multiple sessions may be needed for sustained relief from chronic conditions like plantar fasciitis.
Preparing for Procedure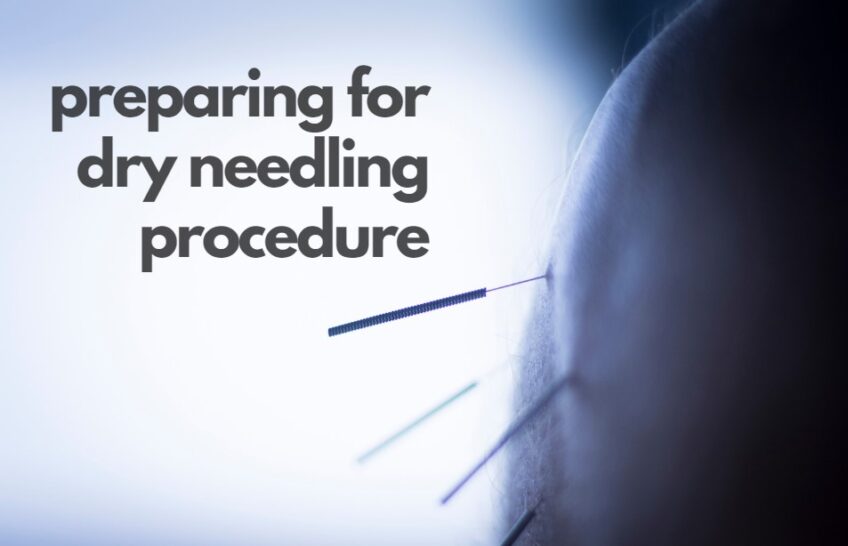 If you've decided to undergo dry needling for plantar fasciitis, your first step should be to consult with a certified healthcare professional to discuss whether it is the best option for you. After assessing your medical history and the extent of your symptoms, they may recommend dry needling combined with other treatments.
When dry needling is chosen as part of the treatment plan, you and your healthcare professional will decide how many sessions are necessary. Most people receive a series of 3-4 treatments spaced out over two weeks in order to maximize results.
To prepare for the treatment session, it's important to keep these tips in mind:
Make sure that you are well-rested prior to treatment. Try not to engage in any strenuous activity before or after your session.
Wear comfortable clothing that can easily be moved without restriction or removal.
Eat light and healthy meals before your appointment time; aim for high levels of protein and low levels of fat and sugars while avoiding high-caffeine beverages such as coffee.
Allow up to one hour per session; dedicated rest afterward is also beneficial.
Hydrate well with water throughout the day of your appointment and afterward too in order to flush poisons from the body and speed up healing processes.
The Procedure of Dry Needling for Plantar Fasciitis
It involves inserting thin, solid needles into the plantar fascia, which is the thick band of tissue that covers the bottom of your foot and connects your heel bone to your toes. The process works by stimulating the nerves surrounding the area and encouraging circulation, which in turn helps reduce inflammation and relieve pain.
When dry needling, the practitioner inserts multiple needles along the affected area. Some patients may experience a mild sting as the needle goes in, but most find it relatively comfortable. After insertion of all of the required needles, they remain in place for around 10 minutes before being slowly withdrawn. During this time period, some patients experience lighting tingling or sensations as blood flow returns to the injured areas.
Aftercare advice following dry needling typically includes:
Resting your feet and reducing activities that create pressure points or strain on your feet such as walking or running on hard surfaces.
Ice or cold treatments can also help reduce swelling and pain while hot compresses can increase circulation at home after treatment sessions.
Your doctor may additionally recommend anti-inflammatory medications or special exercises tailored to targeting plantar fasciitis appropriately over time.
Post-Treatment Care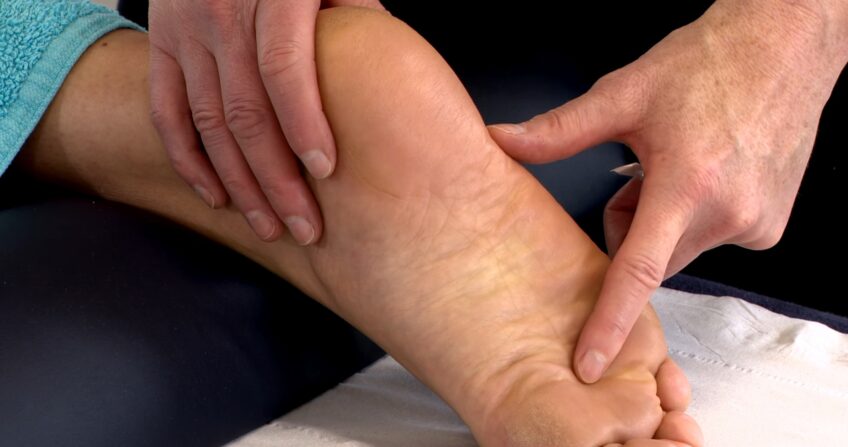 Following a dry needling session for plantar fasciitis, it is important to adhere to a few basic post-treatment care guidelines. Doing so can help reduce discomfort, promote the healing process, and maximize the benefits of the treatment.
Immediately following treatment:
Gently massage the affected area to promote circulation and reduce stiffness
Keep the affected area well-supported with your footwear

This may include heel cups or orthotic inserts as needed

Ice as necessary to reduce inflammation and soreness
Take anti-inflammatory medications as prescribed by your physician
In the days following treatment:
Continue with mild activity as tolerated such as stretching and light activities like walking
Avoid any strenuous physical activities for 3–4 days after treatment
Repeat icing if necessary
Begin a strengthening program designed for plantar fasciitis when recommended by your healthcare provider
Potential Risks and Complications
Although dry needling is considered a safe and potentially effective approach for managing plantar fasciitis, risks and potential complications may still occur. These include minor aches and pains, bleeding or bruising at the site of the needle insertion, and allergic reactions to any substances used during the procedure. It is important to discuss any potential risks with your healthcare provider before undergoing dry needling.
In rare cases, dry needling has been known to cause nerve or vascular damage due to incorrect needle insertion or improper technique. Deep injury can also occur if the needle penetrates too deeply in the wrong area. Experienced practitioners with specialized training are best equipped to handle these cases.
To ensure safety, it is important to choose a qualified practitioner who is experienced in assessing and treating musculoskeletal conditions with dry needling techniques.
FAQ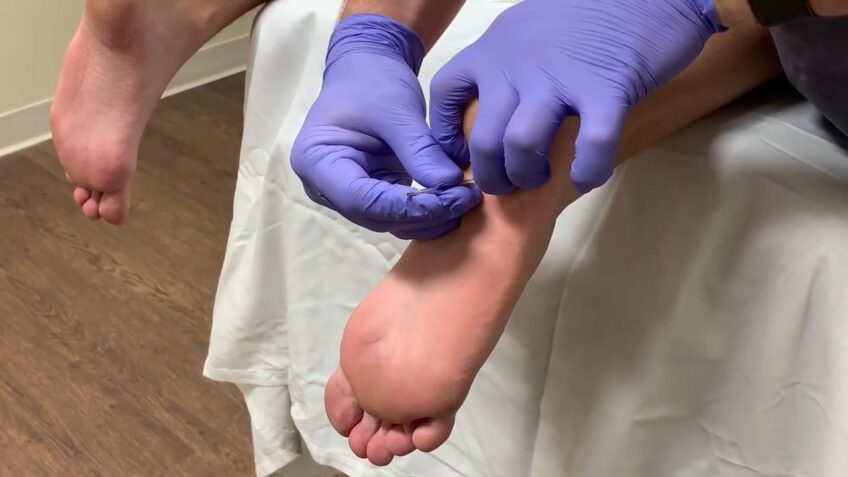 How long does it take dry needling to work on plantar fasciitis?
It can provide significant relief from plantar fasciitis pain within just a few sessions. However, the number of sessions needed may vary from person to person.
One study found that 75% of participants who received dry needling for plantar fasciitis reported significant reductions in pain after just three sessions.
Is dry needling in the feet painful?
It can be uncomfortable for some people, but it is generally not considered to be painful. The needles used for dry needling are very thin and do not usually cause much pain when inserted into the skin. However, some people may feel a brief sharp sensation when the needle enters the skin.
How to know if plantar fasciitis is healing?
Here are a few things to look for that may indicate your plantar fasciitis is healing:
1. You have less pain when you walk or stand.
2. You don't have as much pain when you stretch your calf muscles or the arch of your foot.
3. You can walk further without pain than you could a week ago.
4. Your heel pain is gone when you wake up in the morning.
If you're seeing improvements in these areas, it's likely that your plantar fasciitis is healing.
Is dry needling better than a massage?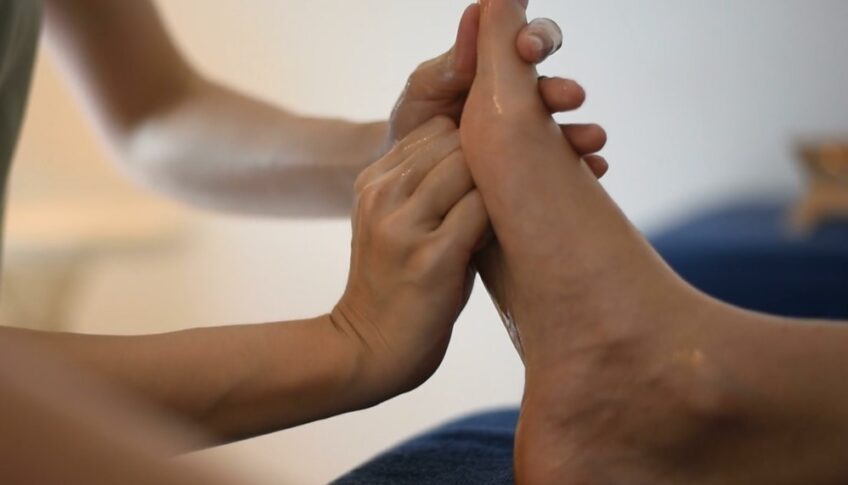 There are a few things to consider when trying to decide if dry needling or massage is better for you. First, what is your goal? If you are looking for pain relief, then dry needling may be a better option. Dry needling can help release trigger points and tension in the muscles, which can lead to pain relief. If you are looking for relaxation, then a massage may be a better option. Massage can help improve circulation and release muscle tension.
It is also important to consider your budget. Dry needling can be more expensive than a massage since it requires special training. If you have insurance, it may cover dry needling but not massage.
How long do dry needling benefits last?
It is not uncommon for people to experience pain relief and improved mobility immediately following a dry needling treatment. However, the full effects of the treatment may not be evident until a day or two later. The benefits of dry needling can last for several weeks, although some people may require occasional booster treatments to maintain optimal results.
Should you ice your feet after dry needling?
There isn't a ton of research on the subject, but what is available suggests that icing your feet after dry needling can help reduce inflammation and pain.One study found that icing immediately after dry needling decreased inflammation more than icing at other times.
Conclusion
Overall, dry needling appears to be a promising treatment option for plantar fasciitis. The research to date is encouraging, but more studies are needed to confirm the effectiveness of this treatment. If you are considering dry needling for plantar fasciitis, be sure to consult with a qualified healthcare provider to see if it is right for you.

Astrona Knight is the Editor-in-Chief at Fischer Institute, where she shares her extensive knowledge on health and wellness topics. Her insightful articles cover everything from diet and nutrition to mental health, providing readers with practical tips and the latest research findings.